Join us on Slack!
As some of you know, we're moving to Slack for our team communications and moving away from monthly meetings at schools. Slack is a messaging app where we can talk, share files, and work together. It also connects with tools we already use, like Google Drive, plus 500+ other apps. We will still utilize MailChimp to send out regular messages and those messages will also now live in our Communication Archive here on our website.
Why are we moving to Slack?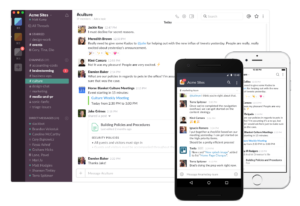 The executive board has been using Slack for over a year now. We have also been using it with our contest committee for the past few months. We want to use the best communication tools to make our lives easier and be more productive. Because of hectic lives and busy schedules, very few people have been able to attend monthly meetings at member schools and so it was proposed to move more of those meetings on an online workspace.
Having everything in one place will help us work together better and faster, rather than jumping around between emails, IMs, texts and a bunch of other programs. Everything you share in Slack is automatically indexed and archived, creating a searchable archive of all our work.
Here's what Slack can help us with:
Communicating transparently across the organization

Providing greater visibility into what other teams are working on

A place to collaborate and share ideas, regardless of availability

Quicker feedback and better decision making

Easy access to information, documents, and files

Serve as a testing ground for a new communication tool you may want to bring to your staff
Before we get started, please get yourself set up:
Step 1: Visit journalismstl.slack.com and sign up. You will receive a separate email with an invitation to join. We are using the email you've used here. If you'd like to use a different one, please let Travis Armknecht know. Download the Slack apps for desktop and mobile.
Step 2: Check out Slack's Getting Started guides.
Questions or feedback?
We will do a short Slack 101 demonstration at the April 19 meeting at Marquette High School. If you are unable to attend the meeting, or still have questions about our Slack team account, please post in the #technical-issues channel on Slack or send an email to Travis. If you have general questions about Slack, their Help Center is a great resource.
Leave a Comment